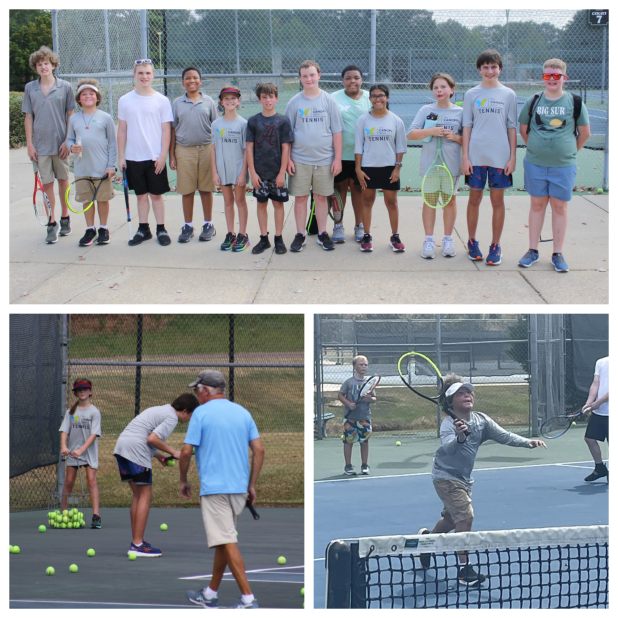 The Canopy School Tennis Program
Thu, 08/24/2023 - 11:06am
When Eric Walters brought his tennis bag into his classroom last Spring at Canopy Children's Solutions, he didn't realize that it would start a wave of interest in the sport that would eventually go on to become a school sponsored tennis program. But sometimes inadvertent actions result in great success stories, which is the case at Canopy as many kids have been introduced to the sport.
Founded in 1912, Canopy Children's Solutions is Mississippi's oldest and largest non profit provider of behavioral health, educational and social service solutions. In 2022, Canopy served nearly 8,000 children and their families.
The Canopy School is a nonprofit, fully-accredited school that empowers the diverse abilities of children through an individualized approach to education in a supportive, transformative environment.
The Canopy School offers an academic path for grades K-12, as well as a workforce development track that gets students ready for careers. 107 kids are currently enrolled at the Canopy School, which specializes in supporting individuals with special needs, particularly in the areas of dyslexia, autism, ADHD, speech/language disorders, and more.
Walters, a retired principal and high school tennis coach, became a PE Teacher at Canopy last year, and after bringing his tennis equipment into his classroom, his students became curious about the sport. After hitting some balls in PE, one thing led to another, and Walters was soon putting together a program where regular lessons were offered at Ridgeland Tennis Center. This summer, Walters put together USTA Jr Team Tennis teams, offering students the opportunity to play on a team for the first time in many of the students' lives.
"When we started the tennis program at school, only around four kids were interested at first," said Walters. "The popularity began to snowball after that though, and four months later, we had twenty kids playing. We're now offering tennis in elementary PE classes, and the students in 6th grade or above have the opportunity to play in our program at Ridgeland Tennis Center as well as on our competitive Jr Team Tennis teams."
Canopy is exploring the steps to possibly field a high school team in the future, as well as offering other sports at the school. School staffers and players' families have seen the positive impact that the sport has made on the kids.
"Playing tennis has been very positive for our kids," said Walters. "We see an enhanced level of self-confidence, players taking pride in their on-court accomplishments, and they believe in themselves now more than ever. Players seem to have a sense of unity when they put on their Canopy Tennis shirts, and they support each other during matches and have grown closer to one another off the court."
Some ask Walters if tennis is hard for the kids at his school to play and learn, but he doesn't view it quite the same.
"A lot of things have been hard for these kids in their lives, so they don't really see it that way," Walters said. "They are just having fun, and we don't worry too much about the score at the end of the match, our kids are winners when they walk on the court."