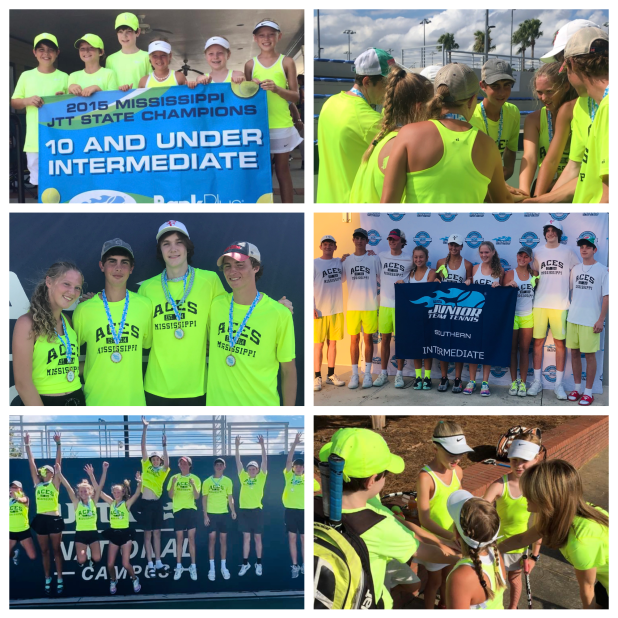 MS Aces 18U JTT place 3rd at Nationals!
Thu, 10/13/2022 - 11:59am
Amazing job to the 18U JTT Mississippi Aces team for placing 3rd at Nationals! The team is captained by Lynda Ratliff and based in Jackson.The players that played in Orlando were Charlie Ratliff, Lytle Moore, Alex Holder, Danny Royals, Patrick Royals, Lucy Lee, Ellie Hogue, Emily Buchanan, and Molly Bennett.
The Aces played New York, Hawaii, and Southern California to advance to the semi-finals against Tennessee. Even though they won 3 of the 5 courts and more sets, they fell short by one game from advancing to the finals. In the finals, Tennessee played Northern California and Tennessee lost by 1 game.
"It was great for our kids to play and watch that level of tennis. We had 5 seniors competing on the team. Competing in Orlando was a special way to end our JTT journey" said Ratliff.
"I started the team in 2014 and since that time they have won 7 state titles, and 3 sectional titles and competed at 2 nationals, winning 4th in 2019 and 3rd in 2022. My job has always been to get the kids to realize their potential and believe in themselves. As a former teacher, it was a blessing to get to love the kids and teach them about good sportsmanship, teamwork, and motivation throughout these years. The win is important, but their attitude on and off the court is equally important to me."