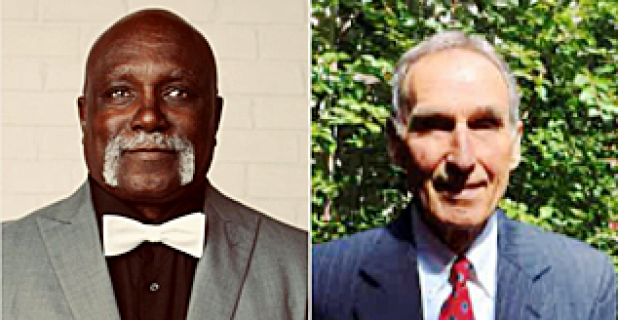 2018 Hall Of Fame: Henry Harris and Albert Lyle
2018 Hall Of Fame
Henry Harris and Albert Lyle
    The Tennis Foundation of Mississippi is pleased to announce that Henry Harris of Natchez and Albert Lyle of Jackson are the 2018 inductees into the Tennis Foundation of Mississippi Hall of Fame. These inductees have long been associated with tennis in the state and through their play, support, and generosity have left an unmistakable imprint on Mississippi tennis.
    Henry Harris has been the face of tennis in Natchez for the better part of the last forty years.  Henry attended Copiah-Lincoln Community College and then graduated from Alcorn State University.  He returned to his home town, where he went to work for the City of Natchez as a policeman, and after 18 years, he was transferred to the Park and Rec Department. In 1976, he started volunteering as the tennis coach at North Natchez High School. During that time, he won his division four times, the state championship four times and the Big 8 Conference title twice. In 1984, he earned his USPTR and USPTA certifications. At the urging of Hall of Famer Willie Shepard, Henry and Cleon McKnight, along with several others, began attending officials' school so that Coach Shepard would have someone to officiate his matches at Jackson State.  Henry became involved with NJTL when his friend Art Porter, seeking a way to help young black students, asked him to help start the first National Junior Tennis and Learning chapter in Mississippi in 1975. In 1992 and 1993, that chapter received the Mississippi NJTL Chapter of the Year award. In 2000 he began working at Battlefield Park in Jackson, and in 2004, he moved to Dallas where worked for the local NJTL, again winning the Chapter of the Year award for the state of Texas twice. He estimates that a total of 80,000 students came through the USTA/NJTL program during his association with that organization. In addition to his recognition of service to tennis and his community, he has also been recognized as the Natchez Citizen of the Year in 1998, was awarded the Natchez Civic League Award in 1990, received the Sporting Goods Manufacturer National Award in 1997, and carried the Olympic torch through Mississippi for the 1996 Olympics in Atlanta. He was featured in the CBS documentary "Beyond the Baseline," in its first airing during the 1996 US Open. In addition to all of this, Henry did find time to play tennis. He has been a long time participant in both singles and doubles in the Senior Olympics National Games and has finished in the top five numerous years. Some of his accomplishments and awards have been left out of this summary, but Henry's dedication to the youth of Mississippi on the tennis court and in life earns him one more recognition –induction into the Tennis Foundation of Mississippi Hall of Fame.
    Albert Lyle is one of those gifted athletes to whom most sports come easily.  As a youngster growing up in Meridian, golf was his first love, and after graduating from Meridian High School, he went to Ole Miss where he played on the golf team from 1957 to 1959. He started playing tennis in his early thirties with some of his friends at the Country Club of Jackson. He improved his game over the years and won the 50s state championship in singles. Through tennis he became friends with a doctor from South America, who introduced him to soccer. He organized the Jackson Soccer Club in the late sixties, and he and Hall of Famer Jim Montgomery started the Mississippi Soccer Association. He organized and coached the first high school soccer team in Mississippi at St. Andrew's School in 1973. At the same time, he was playing on a state adult championship soccer team.  He played soccer until he was 55 years old, and it was a conflict with tennis that made him stop.  He was playing in a group of eight men who played tennis every Sunday afternoon at the same time the soccer team had their matches. He chose the tennis over the soccer and began to concentrate more on his game. He had to in order to keep up with his new doubles partner, Ken Toler.  Lyle and Toler made a formidable team on the local, sectional, and national levels. Just one example of their success is the fact that they won the Southern Seniors Championship Open TEN times. In 2014, Albert was ranked #1 in Mississippi 75s singles, #3 in Southern Section 75s  Singles, and  #10 Nationally in 75s Singles. He and Ken were nationally ranked #8 in 65s Doubles, and #7 nationally in 70s doubles.  He played on the Southern Section team in the Intersectional Team Championships four years. Lyle has won two Southern Championships and the Atlanta Invitational Category 2 in the last five years and is currently ranked #8 nationally and #2 in the Southern Section in singles in the 80s division. He still plays tennis almost every day, and he volunteers to hit with young players who need to raise their games to a higher level.  Albert Lyle could be the poster child for the hashtag "Tennis—The Sport of a Lifetime." He and his wife Ary Jane have three sons and two grandchildren.
            Mr. Harris and Mr. Lyle will be inducted into the Mississippi Tennis Hall of Fame at a banquet to be held in their honor at the Country Club of Jackson on Saturday, January 12, 2019.   For ticket information, call the MTA office at 601-981-4421 or 1-800-349-1683 or email revelandw@mstennis.com.