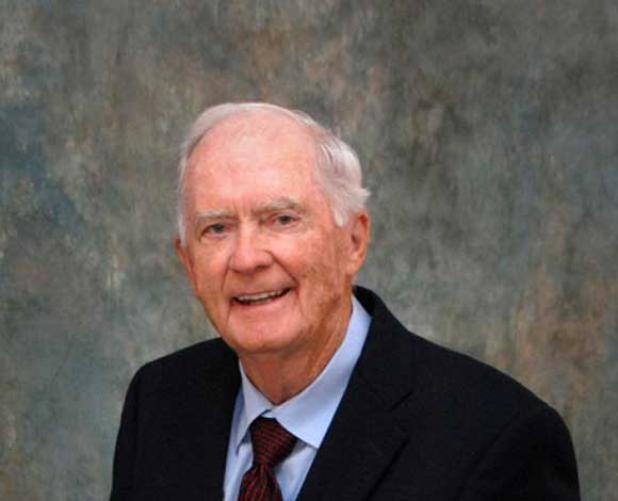 2017 Hall of Fame: Wynn Alexander
The Tennis Foundation of Mississippi is pleased to announce that Wynn Alexander of Wiggins is the 2017 inductee into the Tennis Foundation of Mississippi Hall of Fame. This inductee has long been associated with tennis in the state and, through his play, support, and generosity, has left an unmistakable imprint on Mississippi tennis.
Wynn was born in Stone County, Mississippi, and has lived in Wiggins his entire life. As he puts it, his "love affair" with tennis began when he was in his early thirties when he and some of his friends started playing on an asphalt court behind the First Baptist Church. He admits that they were not very good, but like so many others, they yearned for better competition. He called Dorothy Vest at Battlefield Park and asked her to get him into one of the big tournaments in Jackson. She pitted him against Mac Cameron, and Wynn says that match did not last long. In a long conversation in the locker room after the match, Mac and Slew Hester graciously suggested that he take some lessons since he obviously wanted to play at a higher level. As his interest grew and his ability improved, he played more tournaments and more tennis in general. For a few years, he and a friend owned and operated a tennis club on the Gulf Coast. Wynn was a charter member of Bayou Bluff Tennis Center and thoroughly enjoyed the new friends he made, the tournaments he played, and the health benefits he reaped from tennis.
Wynn's generosity is evident in his contributions to tennis, both monetarily and time-wise. Wynn eventually built a lighted tennis court in his backyard and an indoor court on which local high school tennis teams and college teams and league teams were welcome to practice. He pushed for the first two tennis courts built at the Wiggins County Club. When the city and county were unable to build courts in Wiggins, the Alexander family built a six-court tennis facility—the only privately owned public tennis courts in the state. So far, no mention has been made of any outstanding on court tennis performances, but there were many. Wynn accumulated 28 state rankings, including three #1s and 4 #2s. Some of those rankings were achieved when he and his daughter Laura teamed up in mixed doubles. He said that he missed going to Nationals by one point once. For nine years, he served as an assistant tennis coach at Stone County High School, teaching many young people, including his granddaughters, how to play tennis. At least 17 young people from that area have gone on to play college tennis, and the Stone County High School tennis team won the South State championship seven years in a row. In addition to his other contributions, he has also served on the Mississippi Tennis Association Board of Directors and with the board of the Tennis Foundation of Mississippi, which awards grants to young players to help develop their skills. Wynn is a good example of someone who attains membership in a Hall of Fame for simply loving and playing his sport and doing all that he can to foster and grow that sport in his community and state. He and his wife Carolyn have two children and five grandchildren. He lists his top three hobbies as playing and teaching tennis, tennis, and tennis.
An induction banquet will be held in his honor on Saturday, January 13, 2018, at the Country Club of Jackson.  For ticket information, call the MTA office at 601-981-4421 or 1-800-349-1683 or email revelandw@mstennis.com.