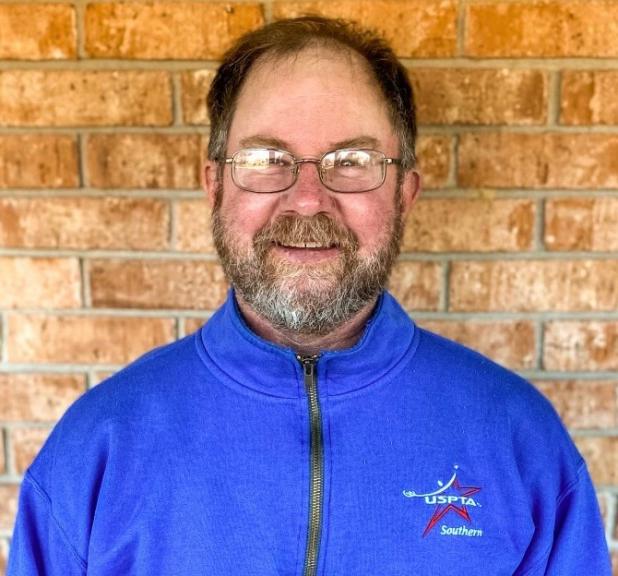 All New Pro's Spotlight: David Kimball
Tue, 03/29/2022 - 11:44am
Every month we will be doing a Pro's Spotlight. For our first, we'd like you to meet David Kimball.
David runs the Brandon City Courts for the Brandon Parks and Recreation Department, and has an extensive career in the tennis industry. You won't meet many families that embody the fact that tennis is the "sport for a lifetime" more than the Kimball's, as David and his wife Carrie have six children that played junior tennis with three going on to play collegiate tennis. He and his wife both are certified tennis officials as well, and have officiated at all levels of the game all the way up to the US Open. This love for tennis allowed the Kimball's to be named the "Southern Tennis Family of the Year" in 2007.
David initially fell in love with the sport as a junior player growing up in Arkansas, which led
him to come to Jackson to play for Belhaven College from 1985-1989. After getting his Masters at the University of Arkansas and working with the college team there, David moved to the Memphis area where he realized he wanted to make a career out of tennis. That 30 year career has led him to work in tennis communities such as Little Rock AR (Burns Park), Williamsburg, VA (McCormack-Nagelsen Tennis Center),  Lake Village AR, and Shreveport, LA (Southern Hills Tennis Center). In 2019, the Kimball family moved to Mississippi and are still introducing new people to the game all these years later.
"In all these years of being a tennis professional in different locations, the common ingredient is the enjoyment of the game of tennis by the players," said Kimball.
"I have had the privilege to help new players grow both in their enjoyment.and ability, and in my almost thirty years of teaching, one of the most repeated phrases that I have heard is & I wish that I had started earlier" 
Kimball has seen many changes in the sport in the last 30 years, from improvements in equipment to athletes being fitter and stronger
"Tennis has become a game of power due to the improvements in racquets, strings, and the
fitness of athletes; and that has led to a change in strategy in the game to shortening the points," Kimball said.
"30 years ago, shortening the point meant coming to the net to finish with a volley, but gone are the days of Sampras, Becker, and Edberg that would serve and volley.  Unfortunately, with the advent of powerful technology and the ability to hit the ball hard, the all-court game necessary for recreational players is not taught. As I always tell my students, the number one rule of tennis is to hit the ball over the net into the court by hitting the ball about 3-4 feet over the net in practice. The net is only a friend when the opponent is hitting the ball into it."