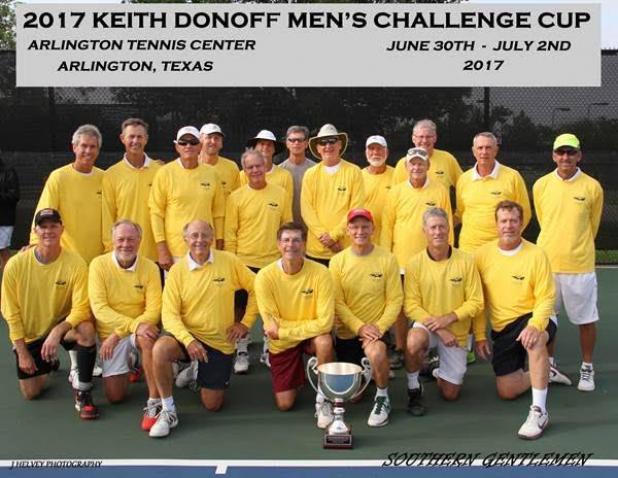 Congratulations to Team USTA Southern!
Congratulations to Team USTA Southern, who captured their 4th straight Keith Donoff Men's Challenge Cup Championship this year in Arlington, TX. Team Southern captured the championship 48 points to 44 over the home team from USTA Texas. MS players are Ken Koelling and Marty Pearson!
The Donoff Cup is a team sectional competition held annually and brings together the top senior adult players from four USTA sections.
The 2017 Southern team members shown in the attached photo are:
Bottom row, left to right: Miles Walker (GA), Steve Duffel (AR), Ralph Grieco (GA), Ken Koelling (MS), Russell Buchi (TN), Al Cannon (SC), Drew Meyers (Captain) (LA).
Top row, left to right: Maxime Buyckx (GA), Jim Hinson (SC), Padg Bolton (LA), Jon Buise (LA), Larry Back (AR), John Bailey (AR), David Reding (AR), Marty Pearson (MS), Cleburne Simon (LA), Andy Steingold (SC), Chris Bussert (GA), Gert Van den Heever (GA), Art Abbott (NC).