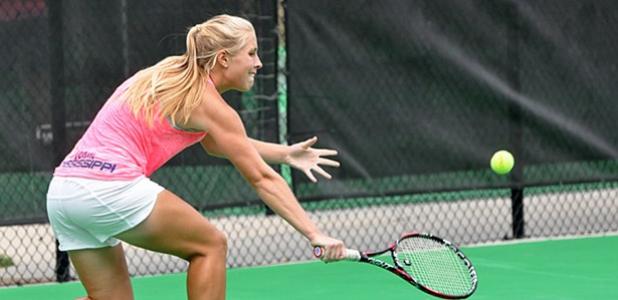 Mississippi Breaks into Silver for First Time in 29 Years
Story and photos by Ron Cioffi/USTA Southern
The long wait – as many as 29 years – is finally over. Mississippi has advanced to the Silver Division of the 2016 Icy Hot Southern Junior Cup.
Kent Shultz, USTA Mississippi's Director, Player Development, came up with the 29-year estimate by going back through the years he has worked.

Mississippi boys confer during Friday doubles match. Above, Grace-Anne Jones digs out a shot. 

Sylvia Viljoen and Sebastian Rios received the team
MVP awards. On left, coach Kevin Gillette, on right,
coach Justyn Schelver.
The state's 18 players felt the momentum build, starting on Friday when two early victories gave the athletes extra hope that they could break Mississippi's status as a perennial Bronze team. The nine Southern states play a round-robin on Friday before the three top teams are assigned to the Gold Division. The three last teams move into Bronze.
Mississippi's players earned entry into the Silver, or middle, Division as they eventually leaped over Alabama in Friday's matches.
"The players won some big matches early and they helped set the tone for the day," coach Justyn Schelver recounted. In the morning matches versus South Carolina, Christopher Rios beat Beau Pelletier and Larry Qu upset Jared Pratt; both opponents are ranked in USTA Southern's top 10 in Boys' 18s.
"The kids are here to fight, which they did after getting ahead in the doubles," Schelver said.
Earlier in the day, Mississippi edged out Alabama in doubles 5-4. Still, the drama focused on the night matches against its eastern neighbor, which had regularly held a slot in Silver. The key for Mississippi was to split singles and the volume from both teams reflected the tension.
"Every single match was close but we pulled out a number of wins against Alabama," said Shultz. He noted the girls won five of their nine matches. "Callie Billman pulled out her match in a match tiebreak. Her brother, Mathis, was down in both sets but pulled out a big win. … The kids were so excited that it was hard to get them down, back in the realm" after gaining the nighttime victory, he said.
"I know we're not the hotbed of tennis like in other states, but we are improving," Shultz said. He cited Grace-Anne Jones for her hard work and Meredith Roberts for her high rankings as to why the team has moved up.
USTA Southern Director of Player Development and Programs Bill Ozaki has seen Mississippi make strides in recent years. "They have an excellent junior development with coaches who have a good base of players. They've utilized Junior Team Tennis and coaches have embraced orange ball tennis. Plus, junior tournament offerings have been expanded."