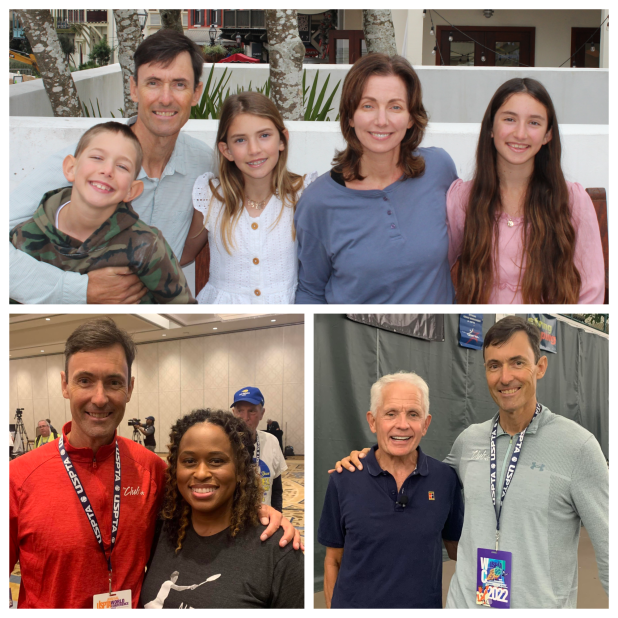 Pro's Spotlight: Neil Witherow
Today we'd like to take the opportunity to spotlight one of our local pros. A lot of people play an important role in the tennis ecosystem, but none are as important in growing the game and delivering play opportunities than our tennis pros. Many of you that have been around tennis in Mississippi have met Neil Witherow, as he has been teaching the sport for over two decades in the Jackson area. Witherow has taught at the Northeast Courthouse, the Club at Crossgates, and is currently the Tennis Director at the Club at Township in Ridgeland. Some of his many accolades include being named USPTA Southern Pro of the Year, as well as being a two-time All American as a college player at Belhaven. Witherow has also been active on the volunteer side, serving as the USPTA State President, a USTA Mississippi Ranking Committee member, and the chair of the USTA Southern Pro Relations Committee.
We recently had a Q&A session with Neil, getting to know his "tennis story" as well as how he got to be as involved in the game as he is now.
1.Everyone has a "tennis story," so tell us a little about yours, how got into the game, what madeyou fall in love with it, etc…
Growing up in South Africa, I started playing tennis at age seven in the driveway with my brother and then taking a weekly group lesson. My coach told me to practice my bounce-downs and bounce- ups until I could do 100, and to bite my shoulder at the end of my forehand follow-through. I hit balls against my garage door until my Dad bought a rebound net for less noise. An inspirational time came when in one of my first tournaments I won a 4.5 hour match after having 5 match points against me. I played cricket, rugby and other sports up till high school, but loved tennis the most.
 
2.       What made you want to go from playing to getting into teaching tennis?
After playing college tennis (in South Africa and at Belhaven), and an attempt at lower level pro tournaments in Europe and running out of money, I came back to Jackson and started teaching tennis, partially so that I could send money back to South Africa to my parents who were going through a tough financial time. Though my college degree was in Actuarial Science, I ended up continuing to teach tennis, enjoying the technical, competitive and social aspects of it, as well as the opportunity to make a difference in people's lives.
3.       What are some of the most rewarding aspects of teaching or reasons why you choose to do what you do?
I love helping people to understand the technical and strategic aspects of tennis, especially how there are similar technique aspects to different shots. But when I first started teaching tennis, I taught technique and strategy in my lessons and that was it. Now, I see the importance of also guiding the players (as well as parents of junior players) in their tennis pathway: how often and how to practice, what leagues/tournaments to play in, and even some fitness/nutritional aspects. As a Christian, I see tennis as an opportunity to serve and encourage people on the tennis court so that they can be inspired to make a difference in their world. The Bible also encourages us to do everything that we do to our absolute best, as doing it for God and not just man.
 
4.       How has the game changed and evolved since you first began teaching over 20 years ago, andwhat are some of the biggest differences today?
Tennis is constantly evolving, perhaps more rapidly now because of the science and technology that is being applied to all aspects of it. Racquet technology, technical evolution, strategy data, and fitness/strength/injury science have all contributed to having to keep up with the game in order to teach it well. That's why it's so important for coaches to continue to educate themselves through the resources available at tennis teaching conferences and certifications.  
5.       Talk about what you see in the future for the game in Mississippi, where it can go, what you'd like to see, what can improve, etc
I think that there is great potential for Mississippi tennis, especially as teaching pros and coaches get more involved in inspiring and guiding tennis players to reach their potential, as well as being involved in serving and giving back to the tennis community.
6..       What qualities make a great player and what do you look for when assessing the potential of a player?
Footwork and technical and strategic ability both play a big part in making a great player, but focus, determination and hard work plays an even bigger role.
7.       What advice would you give to new or intermediate players looking to take their game to the next level?
Work with a coach or mentor to plan and implement a training and match regimen. It has to include instruction, a lot of repetition, as well as social and competitive matchplay.