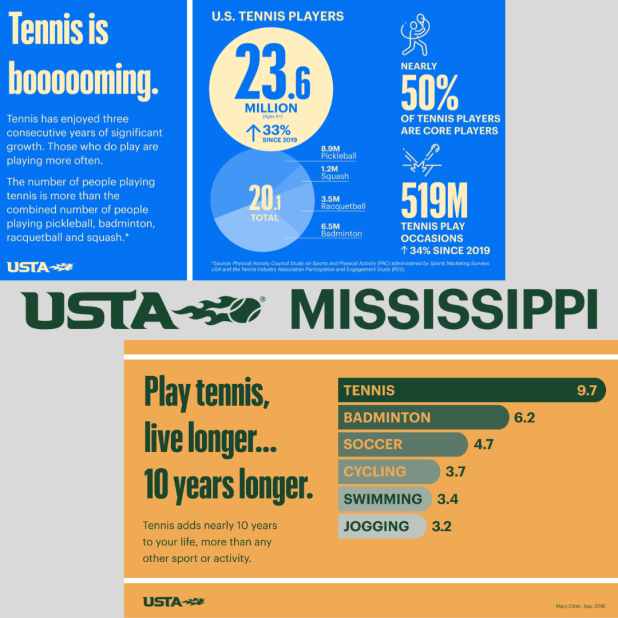 Tennis Booms in 2022!
Fri, 04/14/2023 - 12:41pm
Tennis is booming!  For the third consecutive year, the sport has seen significant growth, as 23.6 million players in the US took to the court in 2022.  According to a study by the Physical Activity Council, an independent organization that studies participation levels across 20+ sports, 1 million more people took to the courts in 2022 than the previous year.  When added to the previous two years, tennis participation has grown by 33% since the start of 2020.  More people are playing tennis than pickleball, badminton, racquetball, and squash combined; making it the most popular racquet sport in the US!  And those who do play, are playing more often as 50% of tennis players are core players, accounting for 519 million play occasions in 2022.
"The increase in tennis participation for the third year in a row is not only important for the health of our sport, but also for the health and well-being of those who have made the game a part of their lives," said Brian Hainline, Chairman of the Board and President, USTA. "Tennis has a multitude of benefits, ranging from the mental to the physical, and we are excited to help lead the continued growth of a sport that helps players of all ages and ability levels stay active and healthy."
In addition to the growth of the sport, multiple sources and studies have recently shown that tennis has a significant positive impact on the health of participants.  Included in the effects are:
Tennis players on average lived an additional 9.7 years than sedentary individuals.
The 9.7 additional years for tennis players ranked highest among all sports included within the study, beating out soccer by 5 years (4.7), cycling by 6 years (3.7), swimming by 6.3 years (3.4) and jogging by 6.5 years (3.2).
Participation in racquet sports, including tennis, reduces risk of all-cause mortality by 47 percent and cardiovascular-related death by 56 percent.
The USTA continues to help support the growth of the sport, as the National Association alone awarded $750,000 to help fund 45 tennis court construction projects in 2022, resulting in 585 new courts completed across the US.  This is in addition to the $60,000 plus that the Mississippi Tennis Association awarded to local facilities in 2022 to help resurface and construct new courts in Mississippi.  Junior tournament play saw an increase of 18% in unique tournament participants in 2022, and USTA Adult League saw an 11% increase in 2022.  So now is the time to hop on board and grab a racquet Mississippi!