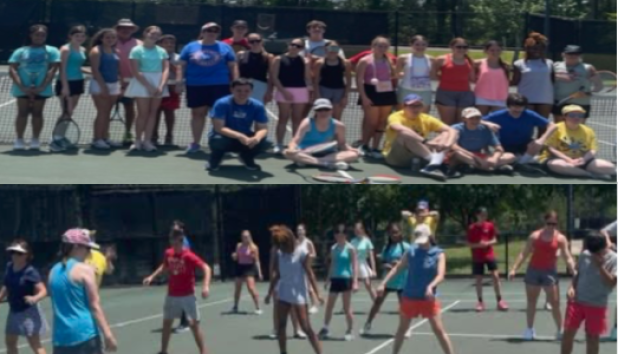 Meridian CTA Serves Up Adaptive Tennis for National Tennis Month
The USTA is of the belief that tennis can be adapted so that everyone can participate in the sport.  People of any age, environment, social, intellectual, or physical ability are invited to enjoy the game during May and National Tennis Month!  On Saturday May 13, the Meridian Area Tennis Association partnered with the Parent Circle Support Group of Meridian to give a tennis clinic to enable individuals with special needs the opportunity to have fun hitting tennis balls.
Parent Circle Support Group is a group of parents and guardians of children and young adults with disabilities.  The primary goal of Parent Circle is to provide various activities and sports events that would normally be impossible for them to do otherwise. 
Pete Mazzella and Toni Jackson of the Meridian Area Tennis Association and several volunteers ran a 2 hour tennis clinic for NTM with participants from Parent Circle.
"This is the second time I have been involved in doing a tennis clinic for these disabled children and young adults," Mazzella said. "I have had a lot of rewarding experiences on tennis courts but I can honestly say that it is hard to think of many that were more rewarding than these two clinics I have been a part of.  The late Bill Autry started these clinics years ago as yearly event in memory of his late wife Laurie who's life work was helping those with special needs lead productive lives. Covid put these clinics on hold for a couple years but Toni and I have been fortunate enough to have had two events since last October." 
"For me, the highlight of the day is seeing the excitement on the participants faces and body language when they have accomplishments on the court. They are all very fortunate to have family that loves them and provides opportunities for them to have fun with so many different sports and other recreations. I feel blessed to be a small part of this."
Mazzella was also grateful for the assistance he received last Saturday
"Toni Jackson has been a rockstar in setting these clinics up! I think we make a great team during these clinics. I, with a large group of volunteers work with half the group on technique while Toni works with the other half with fun games. After a snack break, we return and swap groups. We had 20 to 30 volunteers from area high schools to help make this clinic run as smooth as possible. I think that speaks volumes that so many young people would give up valuable weekend time to assist in making others have a great experience. Our youth tennis community is filled with many special souls."
Meridian CTA & Mazzella at Northeast Tennis Center plan to have more of these these clinics throughout the year, stay tuned to see what programs they have in store that more people can get involved in!