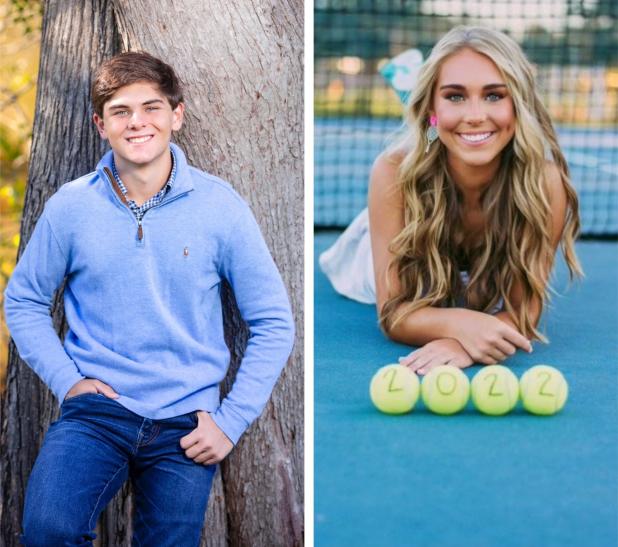 2022 College Scholarship Recipients
Wed, 06/01/2022 - 11:51am
The Mississippi Tennis Association is proud to announce that the recipients of the 2022 College Educational Scholarships are Sunny Logan of Steens and Joseph "Mac" Hamilton of Greenville. Now in its twenty-second year, the program awards scholarships each year to a deserving young man and woman based on their accomplishments in the classroom, on the tennis court, and in the community.
Sunny is a graduate of Caledonia High, and has an impressive resume off the court that includes a 4.0 GPA, being named a Star Student and making Honor Roll each year from 9th-12th grade, Class President, and Homecoming Queen. But as impressive as her resume is off the court, her on court resume is perhaps more impressive as she finished her career with 80 consecutive wins in high school tennis and four consecutive individual state championships in the MHSAA Class 4A Division.
After trying nearly "every" sport and activity growing up, Logan immediately fell in love with tennis at age 5 after her mother entered her into a local tennis camp.
"I loved tennis from the start, and that you always got to play against and meet someone new," said Logan. "Unlike team sports, you are responsible for your own mistakes and I loved that all of the practice, work and time you put in showed up and affected your performance."
Logan had immediate success in the sport, but hit a life changing road block at age 9 when she was diagnosed with a rare form of cancer; Burkitt's Non-Hodgkin's lymphoma. That began along battle of beating cancer that involved a 9-month stay at St Jude with 43 rounds of chemo, 14 spinal taps, and 2 bone marrow biopsies. But through it all, Logan had a great attitude and now attributes the experience to giving her a fresh outlook and perspective on life and tennis.
"It was really hard at first, my body was really weak and it took over a year to gain back my strength," Logan said. "But that really made me realize how blessed and fortunate I was and not to take anything for granted going forward." 
The next stop in Logan's career will take her to William Carey University, where she will play collegiate tennis as well as start her pursuit of a nursing career. Her experience at St Jude and the impact that those nurses made on her life influenced her to want to pass that experience on to others.
Joseph McLaurin "Mac" Hamilton of Greenville is a recent graduate of Deer Creek School, and has an extensive resume of academic, extracurricular, and on court accolades. In addition to carrying a 3.4 GPA, Hamilton's list of extracurricular accomplishments is vast and includes being the Wendy's Heisman Award Winner for Deer Creek, the Jack Potter Memorial Award, the DAR Good Citizen Award, the MAIS STEM Virtual Reality Individual State Champion, as well as becoming an Eagle Scout and being awarded the Chickasaw BSA Council Merit Award. With all of the extracurricular activities, awards, and clubs too numerous to list, it's hard to see how Hamilton made time for tennis, but he did that as well, becoming the MAIS Boys Singles State Champion. Tennis was one of Hamilton's first loves and has had a major impact on his life, as he began playing at age 8.
"My Dad was probably the biggest reason that I got involved playing tennis," said Hamilton.
"Tennis is a big deal in the Delta, both of my parents play, and I always remember going to play with my Dad on Monday nights. After I got involved in my first youth camp, it developed my love for the sport even more seeing all the older players and looking up to them."
Hamilton began playing USTA tournaments around the age of 10, and has been playing competitively ever since. He credits tennis as the activity that has helped form some of the most lasting relationships in his life.
"Some of my closest friendships and family bonds have come through tennis," said Hamilton
"Tennis has allowed me to see many different parts of the Southeast, meet a lot of different people, and share the love and commonality that we all have for the game."
Hamilton has played many other team and individual sports and taken part in a vast array of activities in high school, but says that tennis stands out as the most unique sport of all that he has tried.
"What makes tennis unique is that it's just you out there and to me that mentally sets it apart from the other sports," Hamilton said. "Your coaches aren't out there with you, so you have to think for yourself, motivate yourself, problem solve, and be strong mentally as well as physically." 
The next step in Mac's life will take him to Mississippi State University, where he plans to major in Business Economics and eventually go on to law school. Hamilton's Boy Scout Master took his troop to a trial many years ago, which led him to become fascinated with the law, the Constitution, and the judicial system. But long after Hamilton starts practicing law, he hopes to continue playing tennis and influencing others to do the same.
"You can play tennis at age 5 or age 75, so I hope to be playing for a long time," Hamilton said. 
"I look forward to spreading my passion for the game to others and sharing with them the impact that it has made on my life."