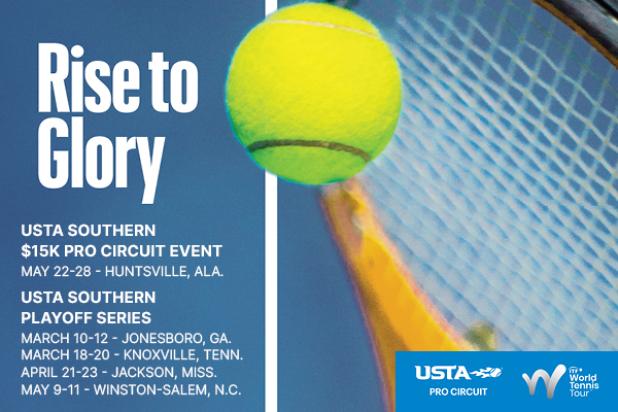 Mississippi to host Open Pre-Qualifier to $15k Pro Circuit Event
The USTA Southern Section is debuting a four-tournament USTA Southern Playoff Series that will award 26 wild cards to the debut USTA Southern Men's & Women's $15K USTA Pro Circuit Tournament. River Hills Club in Jackson will be host to one of the four events in the Playoff Series, with its event set for April 21-23 (Registration open to ALL ages 14 & above).
In addition to the tournament in Jackson, there will also be a junior tournament for 14- to 18-year-olds in Tennessee and two collegiate tournaments in Georgia and North Carolina for Southern Colleges and Universities. USTA Southern will offer eight wild cards to men's and eight wild cards to women's HBCU student-athletes for entry into each of the two Southern Colleges and University series events.
The winner of each playoff series tournament will earn a wild card into the USTA Southern Pro Circuit $15K Tournament main draw while the finalist will get a qualifying wild card. The Pro Circuit event is scheduled for May 22-28 on the clay courts of the Athletic Club Alabama in Huntsville, Ala.
The USTA Southern Playoff Series will consist of four tournaments from March to May, with links to register:
"We believe it is our mission to create a continuum of opportunities for all players that are part of our USTA Southern Tournament Pathway, in particular HBCU players," USTA Southern President & CEO Brett Schwartz said.
Players must be eligible to represent the United States as per ITF and Olympic rules and regulations. Collegiate players must be an official team member of a college or university in one of the following states: Alabama, Arkansas, Georgia, Kentucky, Louisiana, Mississippi, North Carolina, South Carolina and Tennessee. Juniors and adults must have a residency declaration in one of the nine states. The boys' winner of the Southern Junior Level 3, scheduled for February in Florence, S.C., will also receive a qualifying wild card. Doubles wild cards will also be awarded to the Pro Circuit event.
About the USTA Pro Circuit
With more than 100 tournaments throughout the country and prize money ranging from $15,000 to upwards of $160,000, the USTA Pro Circuit is the largest developmental tennis circuit in the world and the pathway to the US Open and tour-level competition for aspiring tennis players. Now in its 41st year, the USTA Pro Circuit has been a launching pad for many of today's top pros, including Andy Murray, Naomi Osaka, Taylor Fritz, Frances Tiafoe, Sloane Stephens, Alexander Zverev, Daniil Medvedev, Victoria Azarenka, Garbine Muguruza, and Nick Kyrgios. Follow the USTA Pro Circuit at #USTAProCircuit on social media and at www.usta.com/procircuit.