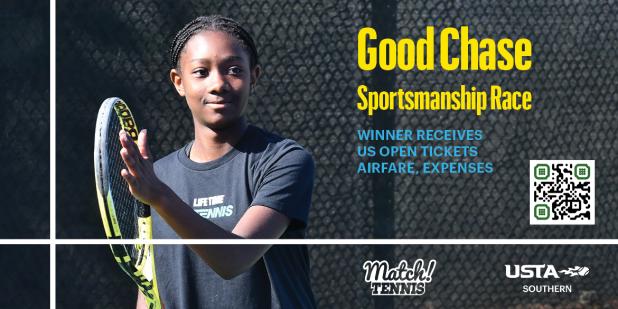 USTA Southern's Good Chase Sportsmanship Race
Tue, 05/02/2023 - 11:59am
USTA Southern has introduced the Good Chase Sportsmanship Race in collaboration with the Match Tennis App. From May 1 to July 31, 2023, the Good Chase Sportsmanship Race will promote good behavior by junior players during tournaments.
The purpose of the race is to incentivize and reward players who exhibit exemplary sportsmanship, with the ultimate goal of creating a more positive and respectful tournament environment for all participants.
The Good Chase winner will earn a Grand Prize trip for two ground passes to the 2023 US Open (worth $300), a $500 grant for a hotel (supplied by USTA Southern) and $800 in airfare provided by Match Tennis App. Any players who receive 5 or more nominations will receive sportsmanship bag tags. 
Information will be posted to the homepage of each USTA Sanctioned Tournament.
Join in the Good Chase and vote for those specific players to earn prizes and even a chance to go to the US Open!
**CLICK HERE FOR INSTRUCTIONS ON HOW TO VOTE!
**CLICK HERE FOR MORE INFORMATION!