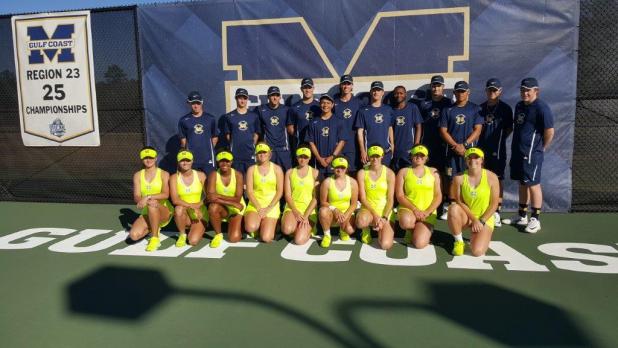 MGCCC continues to be at top of MACJC
PERKINSTON — The Mississippi Gulf Coast Community College tennis program is coming off another very successful season.
The Lady Bulldogs won the MACJC/NJCAA Region 23 Tournament while claiming two singles and one doubles title, and the men's team finished second in the state and region tournament and brought home two singles titles.
The squads did this while maintaining MGCCC standard of excellence in the classroom. The women's tennis team had the highest GPA of any 10 teams in the athletic department, led by a 4.0 GPA by Bianca Buie (Fr, Baia Mare, Romania/Gheorghe Sincai National High School). That earned her NJCAA All-Academic First Team honors. The men's team was also an NJCAA Academic Team of the Year Honorable Mention squad, given to teams with a 3.20 GPA or better.
"We are proud of what our players do on the court, but we're really in the business of graduating great students and great people," MGCCC coach Gary Bourgeois said. "When you win on the court and in the classroom, it's that much sweeter."
The Lady Bulldogs went on to finish 15th at the NJCAA Division I Tennis Championship in Mesa, Ariz. That was the best finish of any MACJC team.
Buie and Paulina Estrada (So, San Luis, Mexico/Colegio Del Bosque) won the consolation bracket in No. 1 doubles.
Buie dominated the state at No. 2 singles. She didn't drop a set all spring, a stretch of 21 matches, on the way to winning the state championship. Katie Burrall (So, Hernando/Hernando) won the No. 3 singles title and teamed with Jenna Lyons (Fr, Pascagoula/Pascagoula) to claim the No. 2 doubles crown.
"It's the best women's team I've ever had here, top to bottom," Bourgeois said. "No doubt."
The men's team finished 16th at the national tournament in Plano, Texas. Travis Bell (Fr, Jackson/Calloway) and Reid Cudd (Fr, Wiggins/Stone) won state titles at No. 1 and No. 5 singles, respectively.
Gulf Coast had a young men's team last season, which bodes well for 2017-18.
"I'm very happy," Bourgeois said. "We've got a lot of people coming back next year with some good freshmen. I think we'll be set. We only lose two sophomores."
For more information on MGCCC's 10 intercollegiate athletic teams, follow @MGCCCAthletics on Twitter and BulldogLIVE on Facebook, and go to mgcccbulldogs.com.
MGCCC Sports Information
For Immediate Release
July 27, 2017